No message at this time.
Be the first to post a comment.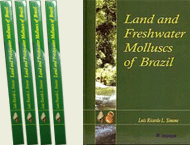 Dredging in Ilhabela.


Marcus and Jose Coltro, Luiz Francisco Viscardi, Eduardo Schirrmeister and Ricardo Guerrini - 1992 by Marcus Coltro
Ilhabela
Ilhabela (São Sebastião Island) is 215 km from where we live in Brazil, São Paulo city.
We used to spend many weekends there to snorkel and dive, which produced several interesting findings in our fauna.
After some years we decided to start dredging to try to find some different shells in a depth between 15 to 30 meters. So we built a small dredge to be used in a friend's boat. Soon we found out that it would be very painful to pull the dredge many times, so I figured a way to bring it up. I put a bag near the dredge and tied a plastic tube around the rope attached to the bag. After the dredge was full, we just had to inflate the bag using a diving tank and hope that it would bring the dredge up. As you can see in the photos it worked!
We still had to bring it by hand into the boat, but I can guarantee it was much lighter then...

Some shells dredged in Ilhabela: COCCULINIDAE Cocculina beanii Dall 1882; EPITONIIDAE Cirsotrema dalli Rehder, 1945; EPITONIIDAE Epitonium albidum (Orbigny, 1842); EPITONIIDAE Epitonium angulatum (Say, 1830); MURICIDAE Muricopsis necocheanus (Pilsbry,1900); MURICIDAE Trophon pelseneeri E.A.Smith, 1915; MURICIDAE Typhis clerii (Petit, 1842); MURICIDAE Typhina riosi Bersch & DAttillio, 1980; COLUMBELLIDAE Anachis sertulariarum (Orbigny, 1841); NUCULIDAE Nucula puelcha Orbigny, 1846; MYTILIDAE Lioberus castaneus (Say, 1822); PECTINIDAE Euvola ziczac (L.,1758); SOLENIDAE Solen obliquus Spengler, 1794; TELLINIDAE Tellina angulosa Gmelin, 1791; VENERIDAE Chione subrostrata (Lamarck, 1818); VENERIDAE Gouldia cerina (C.B.Adams, 1845); MYIDAE Sphenia antillensis Dall & Simpson, 1901; PHOLADIDAE Martesia striata L., 1758; TROCHIDAE Calliostoma adspersum (Philippi, 1851); TROCHIDAE Solariella carvalhoi Lopes & Cardoso, 1958; TURRITELLIDAE Turritella hookeri Reeve, 1849; EPITONIIDAE Epitonium tenuistriatum (Orbigny, 1840); RANELLIDAE Cabestana felipponei (Ihering, 1907); MURICIDAE Murexiella glypta (E.A.Smith,1838); NASSARIIDAE Nassarius nanus Usticke, 1959; NASSARIIDAE Nassarius scissuratus (Dall, 1889); FASCIOLARIIDAE Fusinus frenguelli Carcelles, 1953; FASCIOLARIIDAE Latirus devyanae Rios, Costa & Calvo, 1994; BUCCINIDAE Engina (cf.) corinnae Corvo, 1971; OLIVIDAE Ancilla josecarloi Pastorino, 2003; OLIVIDAE Olivella tehuelcha (Duclos, 1840); CONIDAE Conus clerii Reeve, 1844; CONIDAE Conus pusillus Lamarck, 1811; TURRIDAE Brachytoma rioensis (E.A.Smith,1915); TURRIDAE Carinodrillia braziliensis (E.A. Smith,1915); TURRIDAE Clathrodrillia minor (Dautzenberg, 1900); TURRIDAE Compsodrillia acestra (Dall, 1885); TURRIDAE Ithycytara hyperlepta Hass, 1953; TURRIDAE Leucosyrinx plebeia (Watson, 1881); TURRIDAE Pleurotomella aguayoi (Cercelles, 1953); SCAPHANDRIDAE Cylichna discus Watson, 1883; ACTEONIDAE Acteon pelecais Marcus, 1971; CARDIIDAE Laevicardium brasilianum Lamarck, 1822; CARDIIDAE Papyridea soleniformis (Bruguiere, 1789); CARDITIDAE Carditamera micella Penna,1971; CORBULIDAE Corbula patagonica Orbigny, 1846; CORBULIDAE Corbula lyoni Pilsbry, 1897; CORBULIDAE Corbula caribaea Orbigny, 1842; CORBULIDAE Corbula cymella Dall, 1881; NUCULANIDAE Adrana patagonica (Orbigny, 1846); LIMIDAE Limaria inflata Link, 1807; MACTRIDAE Mactra janeiroensis E.A.Smith, 1915; MACTRIDAE Mactra patagonica; TELLINIDAE Tellina listeri Röding, 1798; SEMELIDAE Semele casali Doello-Jurado, 1949; CRASSATELLIDAE Crassinella lunulata (Conrad, 1834); PANDORIDAE Pandora braziliensis Sowerby, 1874; VENERIDAE Transepitar americana (Doello-Jurado, 1951)
- These photos were digitalized from originals (slides or paper) so the quality is not as high as the photos you are used to see in our website.